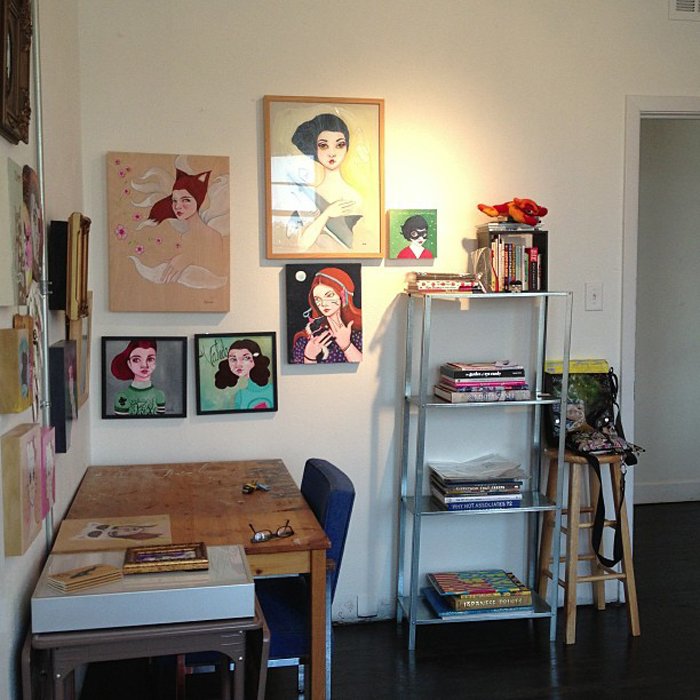 In September 2013 I moved from Winter Street Studios A-1 to Art Square Studios Fannin #200. I am very excited for my new space and what I will create here. I will miss my old space and my studio mate Kelley Devine, but I look forward to how I will grow as an artist. Art Square is more affordable and closer to home and where I work. I have two old windows, that open by hand crank. I plan on creating katsola version of blinds by tracing the framework around the windows so I can create images that will face out to the street. My windows face Fannin. Another fun historic fact about the new studio space is that the building was owned by a Vietnamese family who purchased the building soon after they came from Vietnam, it served as a living space and beauty school for the family until the original Patriarch passed away. I enjoy being in a space that has good vibes and to me this is a wonderful reminder. I also grew up going to the Sears across the street. There is also a fun Barber Collage and Wig shop below that has served the Drag community for quite some time. I also enjoy knowing the rail goes by and feel more connected to the city I live in, I find it inspiring to look out my windows.
November 2nd was my first open studios in my studio. I left my previous space only days before they fall open studios, so it was quite fun to be able to debut my new space so soon. I enjoyed meeting all the artists who also have studios in the building and had several friends and new people visit my studio. My work is very different from the other artists and I really enjoy working along side a small group of very different artists. I just need to get the hang of the steep incline on the second level parking area, I drive a stick shift and have stalled a couple of times going up. Lucky for me, I have been able to roll down and start over without a person behind me.
I am going to be posting more in my blog soon and hopefully adding a big cartel shop too.