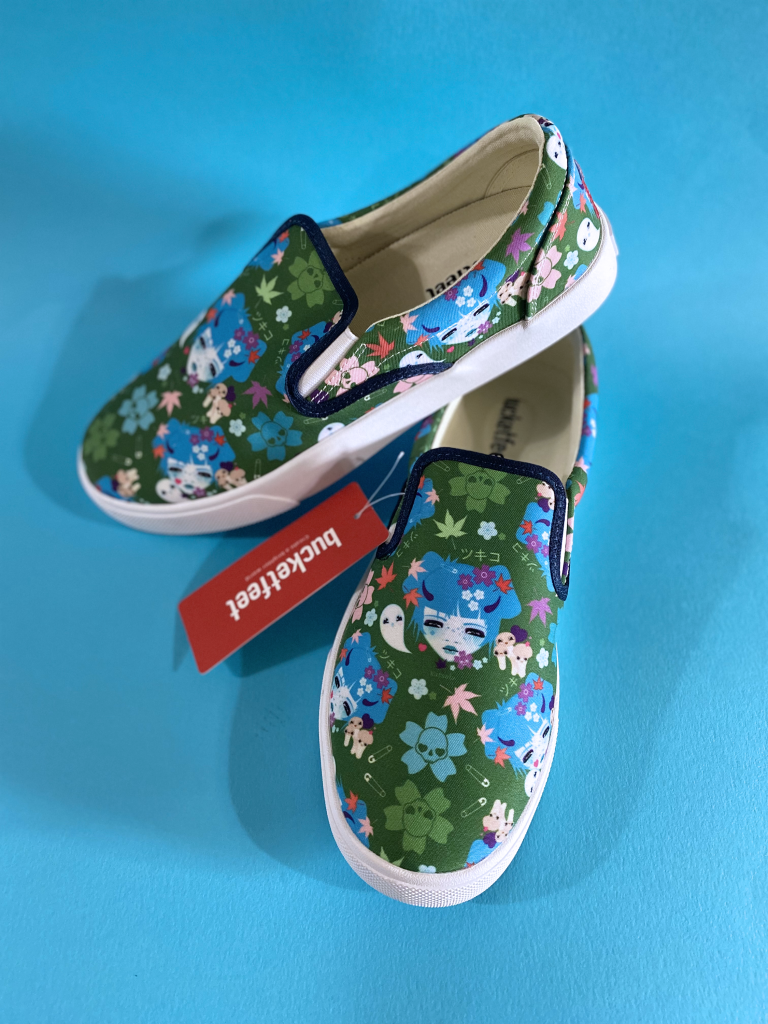 I love designing and creating products with my Kawaii Katsola original character designs. One of the online places I can produce print-on-demand products is Threadless. Using a print-on-demand website enables me to not overproduce products and lets me see what my fans and customers like best.

I have created three BucketFeet slip-on shoe designs for my Threadless Artists Shop, katsola.threadless.com. I purchased two of my designs as samples. The first pair is of my original Kawaii Katsola character Tsukiko and the second is my characters Kiko and Miho. I love how the color came out, the printing is clean, vibrant, and crisp. I typically wear a size 9 in shoes, but my feet are medium width. The shoes produced are standard width. I think this was the only thing I didn't consider when ordering. I hope to speak with a customer who recently purchased a pair of Tsukiko shoes from my site to get their feedback on the fit. In the future, I may buy a 1/2 size up. I will update this post when I get their feedback.
My goal is to create more products with my designs. I haven't been participating in artist markets for a couple of years since the pandemic, so I have been experimenting with designing products on Threadless and my other print-on-demand shops. I have been learning a lot over the last couple of years about designing products. My dream is to be as big as Sanrio and Tokidoki my two favorite brands.